The oval, leaf-shaped and slightly curved shield is carved from one piece of wood and reinforced with horizontally attached rattan ribbons. From the upper to the lower tip runs a raised ridge which forms a wooden knob in the middle. On the back of the wooden pommel is a carved handle.
The shape of the baluse is associated with a crocodile. In Southeast Asia, the mythological meaning of the crocodile is accompanied by the belief in deceased rulers or ancestors who have been reborn as crocodiles.
Swords were (and are) carried in the fatalya dance in combination with shields (baluse) and spears. The real feuds, which were (and are) so impressively practised and staged during the stone jumps and dances, must have been of shortest duration and had a pure raid character, whereby the capture of heads for building inaugurations and important festivities (i.e. joint large-scale projects) was an essential motivation. Spears were the actual offensive weapon in combat. In addition, rifles had been used for centuries to defend the villages, as was the case with other North Sumatran (e.g. Alas, Batak, Aceh).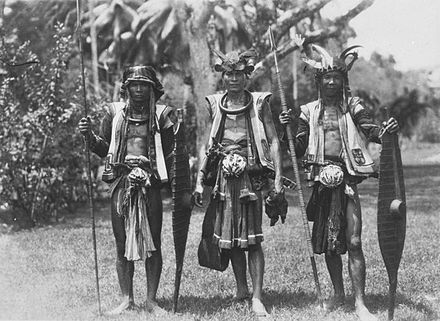 A group of Nias warriors holding the baluse (shield) and burusa (spear), and with balato (sword) at the side of their waist.
https://commons.wikimedia.org/wiki/File:COLLECTIE_TROPENMUSEUM_Portret_van_een_drietal_
krijgers_bij_Hilisimaetano_TMnr_60038145.jpg